When Dave Douglas talks about this year's turkey hunt, his eyes light up and he gets as excited as a first-time hunter. He was there, but he wasn't hunting. Dave was helping his longtime friend Ray Green, who is handicapped, try to get his first wild turkey.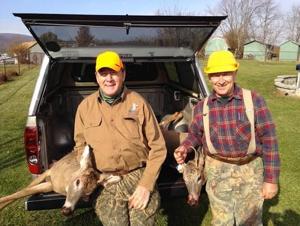 It didn't happen, but neither one is disappointed. Green, 64, of Frederick, and a retired CPA, is not new to hunting. He grew up in Damascus and started hunting small game with his dad when he was 12. That came to a temporary halt when he fractured his neck in a body surfing accident shortly after graduating from high school. An initial operation allowed him to walk and get his accounting degree from the University of Maryland.
However, more procedures followed over the years, with the latest, in 2009, a setback that left him unable to walk without crutches.
It didn't prevent him from pursuing some of his favorite outdoor activities though, like golf and skeet shooting, and he bought a special cart three years ago that helps him enjoy both. Green wants people to understand that it's not only the specialized equipment he uses, in addition to his forearm crutches, but "encouragement and assistance provided by my wife, family and friends," that enables him to pursue his outdoor interests.
One of those friends is Douglas, of Thurmont, who has known Green for 20-25 years. Douglas, 68, who retired from AT&T, grew up in West Virginia where hunting is a way of life. He got his first deer at 12 or 13 and has been hunting ever since. Douglas has also taught hunter safety for 25 years at the Cresap Rifle Club.
All the talk of Douglas' hunting trips finally got Green thinking seriously about hunting again, especially deer and turkey. Douglas offered to help. He knew a place on privately owned land where he could set up a blind not far from where the pickup truck was parked.
The first two times, they came up empty, but this past fall, Green shot a 110-115 pound spike buck at 125-130 yards. Green marked that one off his bucket list and set his sights on getting a turkey.
Green knows how hard it is to kill a wild turkey. "They're not pen-raised," he said. "They're wild as they can be. We're not on any public hunting grounds. There's no food plots or crops to attract them. That's the attraction to me. Turkeys have great eyesight and hearing. Our method is stacked in favor of the turkey," because of having to stay in one place. "We can't sneak up on them."
The quest for a wild turkey started three seasons ago. Douglas said the first time, they heard turkeys but did not see them. The second time, the turkeys didn't come close enough. The third and latest time was last month.
Green relived one of this season's trips through a detailed email account of the experience that he shared with Douglas and others.
"Wow! What a morning! Arrived at the blind at 5:45 a.m. The turkeys were all fired-up and gobbling all across the property up the mountain from my blind. After setting the decoys and settling in our natural blind set-ups, my hunting partner (Douglas) and I both hit the calls. The turkeys would gobble back at us and we could tell they were headed our way, so we stopped calling.
"At about 7 we saw the turkeys crossing the ridge above me. Each of us gave a couple soft yelps and clucks. They saw the decoys and started down the mountain toward me. We stopped all calling. They would stop, 'strut and fan.' My blood pressure was at an all-time high.
"I was holding my gun in the fire position waiting for one of the threesome, all 'jakes,' to show himself because he was well within the 'kill-zone.' They got behind some cover where I couldn't see them. I stayed in a semi-ready position. It was about 7:30 when they appeared in the open woods and walked up to my new (fantastic looking 'Zink Avian-X' decoys) at 22 yards. They walked up to the jake decoy and looked him square in the eyes. The dominant bird strutted and fanned again. All I needed to do was put the gun's front sight on his vitals and pull the trigger.
"Unfortunately, I had held the gun up so long that I could no longer steady the gun in order to make a clean kill shot. I'm sure the heart pounding in my chest might have had something to do with my lack of steadiness. But I tried and tried to no avail. I watched them walk away, each of them not knowing how close they were to the roaster.
"My hunting partner was 10 yards or so farther down the mountain watching all these events transpire. He is an experienced woodsman and has killed many wild turkeys over the years and he wanted me to take the first shot. He said he was planning to shoot one of the remaining turkeys so we would have a double! As it worked out neither of us killed a turkey that morning.
"They did circle back later but didn't come close enough for a shot. Happy for the experience but sad I couldn't close the deal. It was a great day and I will surely cherish the memories for the rest of my days!"
Douglas also relished the experience, responding this way to Green's account in his own email:
"This ranks way up near the top of my all-time turkey hunts. To me, this is what hunting is about, not the number of animals you harvest, but the total experience. We got those birds to do exactly what we had planned and it was very exciting to watch. I commend you for not taking a shot that you weren't sure of and wounding one of those beautiful birds.
"I do admire you for all the extra effort it takes you to hunt. I am so thankful that I can still get around and it is a privilege to help you accomplish your goals. I was so happy that I got to be a part of getting your first deer, and if we could have gotten a turkey I would have been thrilled.
"I often wonder if our circumstances were reversed would I have the courage to put in the extra effort that you do. I am looking forward to many more hunts. Your enthusiasm keeps me fired up."
"The camaraderie is the biggest thing," Green said in an interview, the time spent sighting the guns, setting up a blind, going to and from a spot. "Hunting is just as much interpersonal relationship as it is killing anything."
Both Douglas and Green benefit from that relationship. "Without his help and his willingness to devote time and energy to help, I couldn't do it," Green said. "On the physical side I couldn't do it. Pulling the trigger is the easy part. That's when the work begins."